Questions & Answers about Recycling a Yacht
There are many different types of yacht, and disposing of them can be tricky. This page is designed to answer some of the questions you may have about what a yacht is and what you need to be aware of when looking to recycle your yacht.
Table of Contents
What is a Yacht?
We class a yacht as a sailing boat usually with mast and a keel/keels. Some yachts will come with engines (Inboard or outboard) and some don't.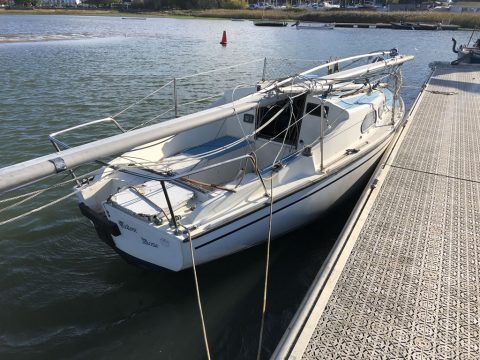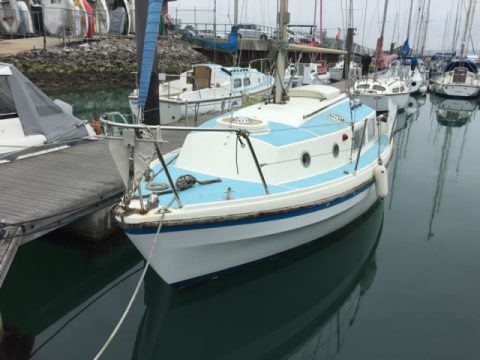 Different Keel Types
Different yachts have different keel/hull types. The main reason we need to know what type your yacht has is so we can plan how to transport the boat.
For example, a Bilge Keel boat has two keels that the boat can sit on. This makes it easier to transport as it can sit comfortably on a flat-bed trailer.
A fin keel will require to be propped up by stands. Other types of keels include Lifting, Full, and Skeg. The type of keel also makes a difference when we get the boat unloaded at our boat scrapyard. Like on the trailer the Bilge keel boat will sit happily on her keels, whereas a single keel boat will need to be propped up.
The keel or keels is also where the majority of the weight is on lots of boats. People often think that a lead keel holds lots of value. It's not always the case as inside the keels there is often a mix of materials in the metal which makes it less valuable.
Transport
When we are planning to transport a yacht we need to make sure that the boat is ready to be transported. This usually means getting the mast down. Many marinas will want you to get them to do this. Mainly for health and safety reasons as they don't want owners or us just chopping down masts in the yard. There is a cost to pay here and that will simply be whatever the marina charge.
Unless we can load a yacht onto a flat-bed trailer the cost to transport is one we can't avoid. We use professional fully insured boat transport companies to move the boats around the country for us. We simply pass the cost onto you the owner in our price.
Hull Materials
Most of the yachts we scrap will be GRP or wood hulls. However sometimes yachts can also be made of other materials like ferro cement, aluminium, or steel.
Aluminium and steel boats will usually be cheaper than a GRP boat as the material can be recycled.
Lifting Costs
As most boats have a keel/keels we can't usually winch them onto trailers. So a lift onto transport is usually required. This lifting cost is just the standard rate of what the boat yard charge. That's unless we can send a lorry with a Hiab crane to load the yacht.
Location
We need to know exactly where the yacht is located as it has a bearing on how we collect. We collect boats from in fields, gardens, marinas, boatyards, driveways, canals, rivers, beaches, harbours and inside buildings. Wherever your boat is, once we know the details, we can make a plan to collect.
Weight
We need to know the weight of the boat as we base the price on how much the boat weighs. Once the boat is broken down we have to pay by the tonne to dispose of the waste. If you have ballast on board that can be removed, you are welcome to remove it before we collect the boat.
Water in boats also adds a lot of unnecessary weight. If your boat is full of water prior to collection, please drill some holes in the hull to drain the excess weight. We want the yachts to be as light as possible. It makes transport safer and loading/unloading simpler.
Flares
Flares incur an extra charge to dispose of as they are a difficult item to dispose of. If you want to remove the flares yourself before we deal with the boat your price to scrap will be cheaper.
Working Engines
If there is a valuable working engine in the boat we can often discount the price of disposal. Sometimes if the engines are really good we can offer to take a boat on for free. As we know that we can sell the engine to cover the cost of the scrap.
However, if the engine is a non-runner we need to add to the cost as there are extra costs to properly dispose of the engine.