Rotten Wooden Boat Breaking in Scotland
The Boat breaking in Scotland team made the long journey North to scrap a boat in Scotland. Our target was an old wooden yacht that had been built in a lane near Elgin. Her former owner had sadly died in 2006 and his sons had decided to have the boat removed. Originally we had planned to send a Hiab to lift and shift the boat back to us. However because of the tight access to the lane and the extensive rot in the boat we had to go for Plan B.
Plan B had taken some time to pull together. Our boss Steve had unfortunately snapped his achilles whilst playing Squash. This meant that any driving was out of the question for about 2 months at least. A long drive up for boat breaking in Scotland was a definite no go.
Boat Breaking in Scotland
For obvious reason we had tried to avoid sending a team up to the North Coast of Scotland. From our Gosport base the journey time was due to be 11 hours and that would have been without any stops! We knew that at least two days would be spent getting there and back. Boat breaking in Scotland had turned into a staycation.
We decided to take a small digger with us that could be used to break the boat up. This would then hopefully make light work of the rotten wood hull. Then we had arranged for a large skip to be delivered on site for the boat bits to be loaded in to. When planning to scrap a boat on site there are always concerns. For this job our main concern was that the skip lorry would have trouble getting into the lane. And as we were boat breaking in Scotland we were a long way from home if things went wrong.
If the skip lorry couldn't get down the lane we would have had the awkward situation of having to walk each piece around the corner. Of course another worry was the weather. The Scottish Highlands aren't quite like the south coast of England when it comes to weather. But according to the weather app we were heading for a short window of sunshine.
For privacy reasons Google Maps needs your permission to be loaded. For more details, please see our
Privacy Policy
.
I Accept
Our team of three Breakers left Gosport on a Sunday morning. After two or three stops along the way we eventually pulled into a sleepy Elgin town centre at 9pm. We booked to stay in an Air BnB apartment in the town centre which was perfectly located near the local pubs. Despite being extremely tired the team had time for a quick beer and some food before bed.
On the Monday morning we headed to get some breakfast to set us up for the day. Once we were all full of fry ups we made the short drive East to the village of Lhanbryde. Behind a row of cottage there was a small lane where the wooden boat was kept. It had actually been built in the lane by the former owner.
First of all we unloaded the digger and laid out some covers to help catch the boat debris. We then gave the skip company a call to see what time they planned on delivering the bin. Unfortunately there had been a mix up at their end and they hadn't booked us in. This isn't what you want to hear when you're 600 miles from home.
Crunching the Wooden Hull
After some discussions they agreed to get a bin to us in the afternoon. Despite this potentially delaying us we agreed that a late bin was better than no bin. The Boatbreakers team weren't about to sit around and wait. We fired up the digger and set about crunching our way through the wooden hull.
The former owner had sadly passed away 15 years ago so the boat has been untouched since. Being open to the elements for that long with no care had left her in a perilous state. Some sections could be pulled apart by hand.
It took a matter of minutes to reduce the boat to a pile of rotten wooden parts. If we had the skip there as we crushed her we could have been finished by lunchtime at the latest. The team were on site to start the boat disposal at 9am and by 10:30am the boat was a pile of broken bits. With the skip due to arrive at 3pm we suddenly had sometime to kill.
After a quick look on Google Maps we picked a couple of coastal locations to try and find some food. The first was a town called Lossiemouth. It was a beautiful little natural harbour with Sand dunes offering local surfers perfect place to surf. Our team raided the local bakery for some Highland Steak pies and pasties and sat on along the Harbour walls.
Our next stop was the coastal village of Portknockie to see the Bow Fiddle Rock. It is a local rock formation land mark that looks very similar to Durdle Door in Dorset. Whilst we had a wander along the cliffs we were even lucky enough to see a pod of local Dolphins.
Back to Boat Breaking in Scotland
With the skip due to arrive we headed back down toward Lhanbryde. Whilst we waited we got talking to some of the neighbours. One of the guys who lived on the end cottage told us his son has a Pizza Van that sells pizzas near us. Some of our team had even eaten his pizzas when he set up at Hayling Island.
Finally the skip lorry arrived and was able to back down the lane, much to our relief. We quickly set about loading up all the bits of boat into the bin. Luckily the large bin had a door so we could open it up and load the concrete keel piece. We had tried to break the keel down but it was solid concrete so had to go whole.
Eventually after two hours we had all of the pile in the skip. We then raked over the area where the boat had been to find any last pieces. As you can see from the pictures the homeowners now have plenty of space where the boat used to be.
Despite the delays during the day we were able to be finished by 17:30. A fairly easy day of boat breaking in Scotland The bin was due to be collected the next day so we could get back to Elgin, have some dinner and get ready to set off the next morning. With options limited in the town centre we stuck to what we know and visited the local Wetherspoons.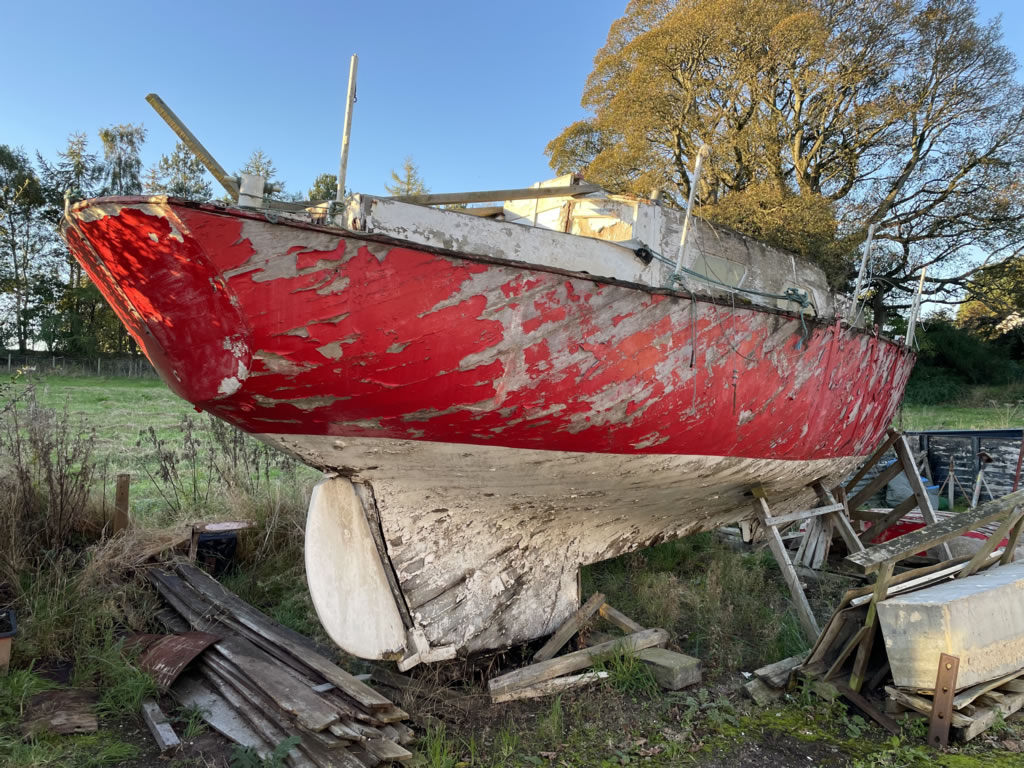 Our Boat breaking in Scotland team set off the next morning at 6:30am. By 12:30 we were just getting to the English border with a new found appreciation for the size of Scotland. We finally got back into Gosport at 8pm and we couldn't wait to get out of the car.
Despite the team having to go for Plan B to dispose of the boat everything went well. Having the machine helped us make light work of the boat and with everything else slotting into place it was a nice mission for the Boat breaking in Scotland team. To keep up to date with what the Boat breakers team get up to we recommend joining our Boat Scrapyard Facebook Group.