Frequently Asked Questions
Q. How much will you pay me to scrap my boat?
The process of scrapping a boat is a costly one. And due to this reason, we will rarely pay to scrap your boat. In most cases, it will be you the boat owner who will pay us to remove and dispose of the boat.
There are obviously exceptions, when we visit a boat to formulate a quote to scrap we may think that the boat could be sold on and we may make you a trade offer to buy the boat. Also, if you have an old narrowboat that you are looking to scrap we can often offer you the scrap value of the steel. Each scrap boat is judged on a case by case basis but as a rule we never pay cash for a scrap fibreglass boat.
Q. Why does it cost to scrap my boat?
Scrapping your boat has costs for a number of reasons. First of all we have to get your boat back to our Boat scrapyard. The boat could be in the water with an engine that doesn't run, this would need to be towed to a boatyard and then craned out. Both can't be done for free. Then there is the cost of transporting a boat by road to our yard in Portsmouth. This can sometimes cost more than the price to scrap.
Maybe the boat is in your garden and a crane will need to be hired in to lift the boat onto our transport. This can easily add £1,000 to the price as crane drivers won't lift a boat on the cheap.
When the boat gets to our yard it needs to be stripped down and all the recyclable items removed. Then we must pay £140 a tonne (+VAT) to dispose of the waste materials. These costs can't be avoided when we scrap your boat, but we will always try and give you the cheapest price possible! Our cost to scrap is usually a lot cheaper than renewing your mooring fees for another year so it's a no brainer.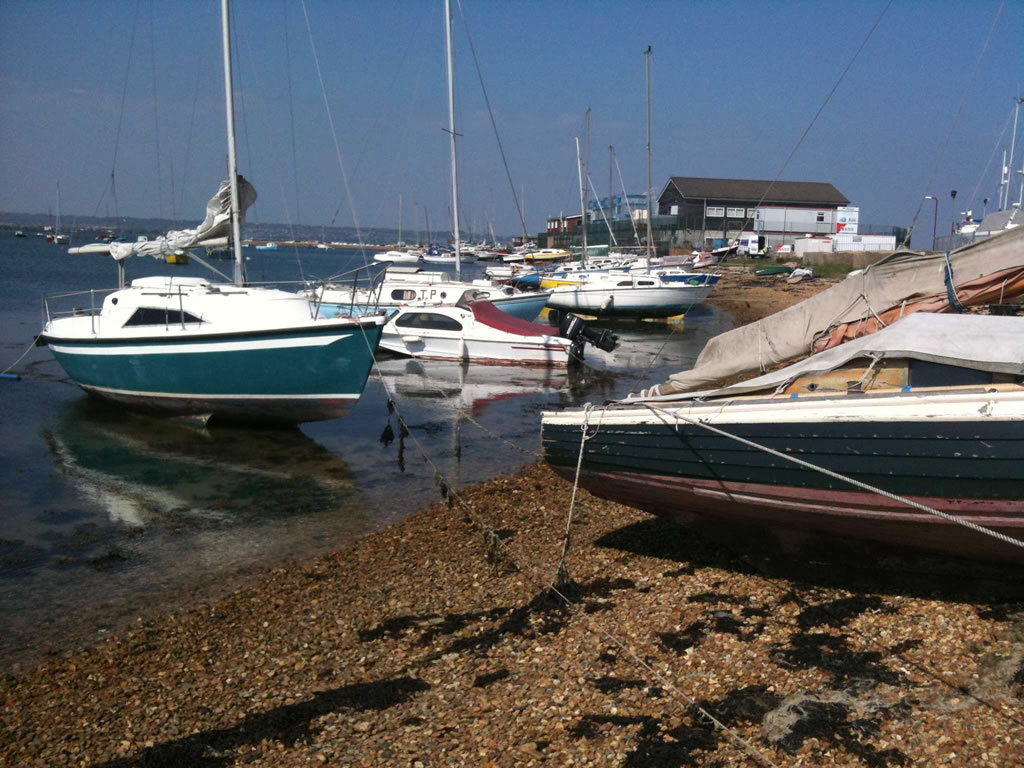 Q. What happens to the fibreglass?
Fibreglass or GRP is tough stuff. That's what makes it great to build boats with. But it also makes it difficult to dispose of. Currently the only economically viable solution for GRP disposal is landfill. When a fibreglass boat comes to us we remove all the other materials and crush the GRP done into smaller sections that are then weighed in.
Boatbreakers were set to be part of a European based study into the possible reuses for end of life fibreglass. It's currently on hold due to Brexit but it's a step in the right direction as governments and people in the marine industry are aware that GRP poses a big problem. Other countries like Norway, Japan and Germany have all made progress with GRP disposal and the UK should soon follow suit.
Q. Can I scrap my boat for free?
Yes. Sometimes we can scrap your boat for free. If our team come to visit the boat and we think that we could recover our costs to scrap from the sale of items on board, we may make you an offer to take the boat away for free. This means that you will effectively be gifting the boat to us and you will have the burden of boat ownership removed.
If your end of life boat has a well-maintained engine, a good set of electronic gadgets and other items that we could re-sell, we could scrap your boat for free. We can also scrap a Narrowboat for free as we can recover some value on the steel.
Q. Do you collect boats from all over the country?
Yes we do. We are based in Portsmouth (England) but we are regularly towing boats back from as far away as Scotland, Falmouth, Northern Ireland, or even Europe. As long as we feel it is financially do-able for us to get a boat back to our yard in Portsmouth we will get it scrapped.
Q. Do Boatbreakers collect boats from the United States?
No. We don't currently do business in the U.S. We only deal with boats in the UK and Europe. If you are an American boat owner you will have to find an alternative solution to dispose of your unwanted boat.
Q. Where can I buy parts that you take off of boats?
We list all of the boat parts we sell on our Ebay Boat scrapyard shop. We will always try and offer boat owners bargain prices on the stuff we sell so everyone gets a good deal. Most small items we are happy to package up and send to you but bigger things like masts, booms and engines will need to be collected from us in Portsmouth.
Q. How long does it take to scrap a boat?
Not long! The only factors that govern how long a job may take are usually the things we don't decide, like the availability of cranes, tugs, low-loaders, trailers etc. We also have to wait for the tides or the weather to be right for some jobs.
Other than that if you are prompt with payment we can get your boat disposed of in a matter of days. Once the boat is back in our yard it usually takes a couple of hours to strip the boat down and a couple of minutes to scrap the boat.
Q. Can I deliver the boat to the yard to save on transport costs?
Yes! We always appreciate it when boat owners deliver the boat to us and we change our price to reflect it. If you can't deliver the boat yourself you could always arrange for your own company to deliver the boat to us if you think they're cheaper than the one we suggest. All boat deliveries still have to be organised with us so we can make sure we have space in the yard for the boat.
Q. Are there any other costs I should consider on top of the quoted price to scrap?
The only time we will add extra costs when we scrap your boat are, if the boat needs to be lifted onto our trailer/out of the water and onto our trailer, or if the boat is a lot heavier than you told us in your enquiry.
This is because we have to pay by the tonne to dispose of the waste and our quote will have been worked out to deal with the weight you told us in the Scrap Calculator enquiry.
Q. Do you buy project boats?
Sometimes. It depends on the state of the project. We often get sent project boats that we feel are more suited to being called a scrap boat. If you have a genuine doer-upper that needs a little bit of work done then we may be interested. However if the boat has no engine, mast, rigging, sails, propeller, is full of water and the wood is rotten then it's likely to be a no from us.
Q. How much of my boat will be recycled?
As much as possible. Obviously fibre glass doesn't have a re-use but all the fixtures and fitting will be removed and reused. If the boat is wooden the wood will be churned up and used in products like chipboard. So there's a chance your Ikea furniture may have a bit of boat in there!
All working parts of the boat will be listed for sale so other boat owners can re-use them and avoid more waste. Some boats even have second lives and go off to be used in TV shows or on movie sets and as far as we are concerned this means they're 100% recycled!
Q. Do I have to pay it all upfront?
No! If you do pay the whole quoted price upfront we can offer a discount. But if you'd like to spread the cost we also have an interest free payment plan to pay the bill. All you need to do is write 10 post-dated cheques that we can cash in at the beginning of each month. This way you don't have to pay the large upfront cost of scrapping your boat but the boat still gets off the mooring or out of the boatyard before the fee renewal comes around.
Q. What types of payment do you accept/prefer?
We accept most types of payment. Cash, Credit Card, Bank Transfer, Cheque, or Paypal. We prefer bank transfers but which ever method suits you is fine.
Q. Do you accept part exchange towards payment?
Yes. We are happy to part exchange with any items we can get valued. We are happy to accept boats, cars, motorbikes, jewellery and more. We will get the items independently valued and then we will count this towards your payment.
Q. Do you take any sort of boat?
Yes, we deal with all types of scrap boats. From yachts, motorboats, speedboats, and narrowboats to barges, tugs and ships. If we can get it to our yard we will scrap it. We deal with boats made from all different materials, mainly GRP but also Steel, Wood, Ferro Cement, Aluminium, and Plastic.
Q. Is it cheaper if I take the engine out?
No. If the engine is in good working order then leave it in the boat. Our team will remove it and hopefully be able to recycle it and because of this we will have quoted you a much cheaper price. If the engine is completely seized, rusted or broken then it would make it cheaper for us if you remove it as the boat will weigh less. Our team will be happy to advise you on this.
Q. Can you come and scrap my boat at my property?
Yes we can. Sometimes a boat may be too large or in an awkward place to get a crane or low-loader to. So we can send a team to come and chop the boat up on site and have the waste collected. This does add a bit to the price as we have to consider if the team will have to stay overnight, extra travel expenses and the call out fees for the waste disposal companies.