Over the last few months our team have been busy working to get our headquarters up and running. As Boatbreakers has grown we have become aware of the need to have more space to store all the bits we sell. They were ending up filling our Portsmouth office.
For the last few years we have had our eye on potential locations for a new base. Ideally in the Portsmouth/Gosport area as that's where our team live.
Former Chandlery Warehouse
Finally after many non-starters the perfect building became available. It was originally a gas works before later being used by an engineering firm. More recently it was a warehouse building for a chandlery business.
When we first got the keys for the building there was still a lot of marine items left over. This means that we will have plenty of items to list for sale. The negative side of this was that we've spent hours trying to move and sort the items that were leftover before we could begin renovating the building.
It wasn't just the boat bits we had to try and shift around. There was also lots of rubbish and waste that needed clearing. Including the paint which was flaking from the walls.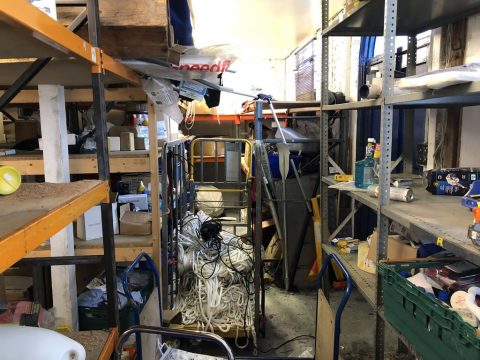 The interior wasn't the only thing that needed sorting. Outside under the overgrown bushes and broken fence there was a large yard area. Getting it to the large area it is now was big effort. It took a lot of digging, cutting, breaking and lifting. Then there was the mammoth task of digging the 16 holes for the new fence posts.
We hadn't quite anticipated what was going to be underground once we started digging. The front section meant digging through 9 layers of underground brickwork. It was thirsty work digging during a heatwave using a concrete breaker.
The team are now close to getting the new office up and running. We will soon have some before and after pictures to show the work that's gone on over the last few months.