Spent practically all his life on the sea starting at 10 years old in Mirror Dinghy's, Toppers, Albacores, Lasers, windsurfers, kite surfers, Royal Navy sailor, Ocean racer…the list goes on and on and nowadays with yacht master ocean and MCA STCW Master (Yachts) Steve is a widely experienced maritime professional with a wide and broad set of experiences.
If there is a question, an issue or a problem you just can't resolve call him. His phone is always on (within reason!) and if he can't answer, please leave a message and he will always get back to you.
Luke completed a journalism degree in Brighton University and fortunately for us uses this in his communications, Facebook posts, Tweets, Vines and emails to tell all our enquirers and followers what we are up to.
Without Luke we would be lost, he runs the office, keeps us organised and is like a terrier and never lets a tricky boat disposal job go un-photographed or Tweeted about.  He also manages all of our enquiries passing them to whoever in the team is the best suited to deal with it.
We are teaching Luke how to drive a motorboat or sail a yacht so while he's learning we suggest you keep out of the Solent!
When he's not at work he's a massive football fan (his Dad used to play for Portsmouth FC years ago) and seems to know everything there is to know about any player, anywhere.  Next time you ring and he answers, think of a tricky football trivia question and ask him….
Craig has overseen operations at the new office/warehouse building in Gosport. He was also central to the efforts of getting the new building shipshape in the summer of 2019. He visits our headquarters daily to check the on the forklift he gave us and to empty our biscuit tin and tea supplies.
When he's not helping Boatbreakers, Craig owns a building company. If you need building work done you can visit cedneybuilders.com or give Craig a call.
Justin has been around designing websites for almost 15 years.
He began working with us when he was only 15 fixing and maintaining our computer systems as a Saturday lad.
When the internet was 'invented' so was Justin's career.  He loves it.  In fact we cant keep him off it!  Researching and utilising the latest tricks to get our websites looking great and on the first page of Google every time.  Without him, well, we would still be using our wax tablets and quills!
When he's not in the office he's on-line again killing monsters, saving planets and exploring worlds on-line we can only imagine.
Oh and he's now taken up archery – at least he's getting some fresh air nowadays!  He's also written his clubs website www.gosportbowmen.co.uk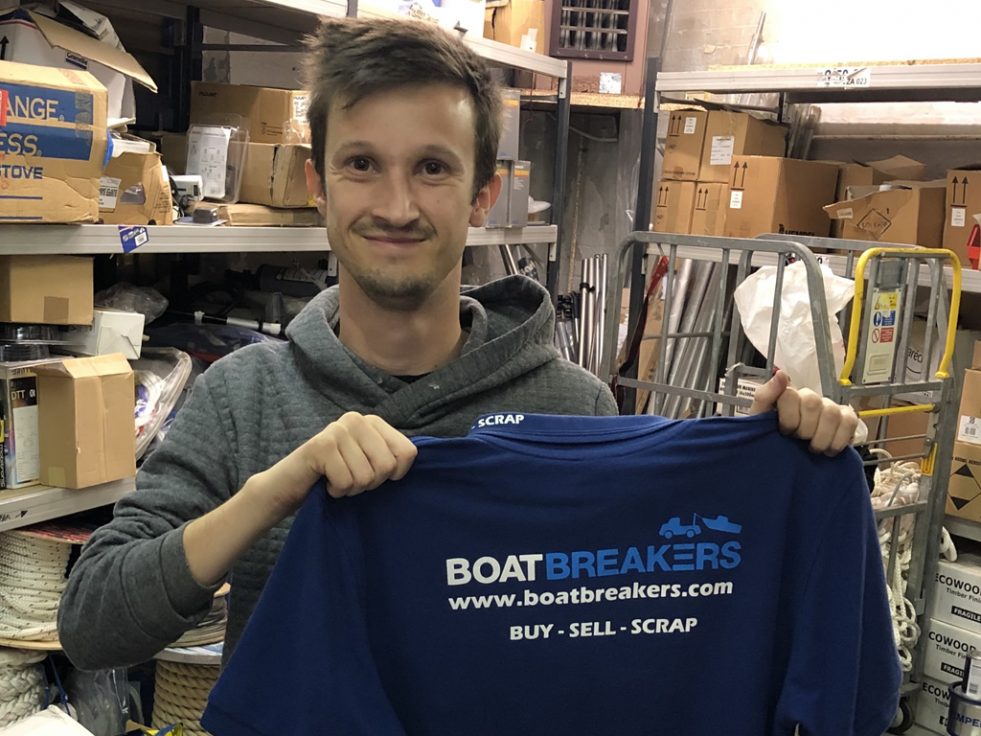 David is the newest member of our team and joins us ready to tackle the mountain of second-hand boat bits we have to sell. He will oversee our BoatScrapyard website and keep it full to the brim of cheap chandlery items.
We think that he's had the perfect mix of work experience for his new role. David completed a diploma in Marine Engineering at Cemast Campus for Engineering in Fareham. On the marine engineering course he learnt about fixing engines, prop shafts, installing electronic control panels, alignments and Hull repairs.
While completing the course he also worked at Screwfix organising a warehouse and helping customers find what they are looking for. This is great for us as he will use this experience to organise our new warehouse.
Next he moved on to Unbeatable Cars Portsmouth. His role there was receiving cars off of transporters and inspecting these for damage. It was at UBC that re-sparked his interest in cars.
After working at UBC for six months he was transferred over to the Hendy group car & van store. At Hendy he was much more involved in the progressing of the vehicles through the workshop and bodyshop and the organising of external work.
David describes himself as a "massive football fan", unfortunately he's a Manchester united supporter but I suppose we all make mistakes! His other interests are history and his car is his pride and joy.
Dominika is an experienced sailor and sailing is her great passion. She started sailing when she was 14 and since then she spends all of her free time on her boat. She likes sailing on big boats but also on small fast sailing boats and takes part in local regatta whenever possible. She is a qualified skipper and enjoys leading cruises in different countries in Europe like Croatia, Italy, France, Poland and also, on the oceans.
She is RYA Skipper certified and certainly knows her way around a boat.
When she is not sailing, Dominika works as a Program Manager and manages large projects in different locations across Europe. She can manage each Project Boat from initial enquiry to final disposal. As well as Polish Dominika speaks English and German and she can help you in each boat query.
We are really excited to have Dominika joining the Boatbreakers team and we hope she can help to spread the Boatbreakers message across Europe.